We are a national preschool that follows an international learning syllabus, covering the National Preschool Curriculum (KSPK), Permata Negara Curriculum with the Montessori teaching method.
read more
We at El Bambino believe in
Valuing every children's strength
Allowing children to freely explore what they enjoy, with guided limitations. We call this 'Freedom with responsibility': the freedom to learn and understand things around them, and the responsibility to be accountable for the caring of their environment and the respecting of others.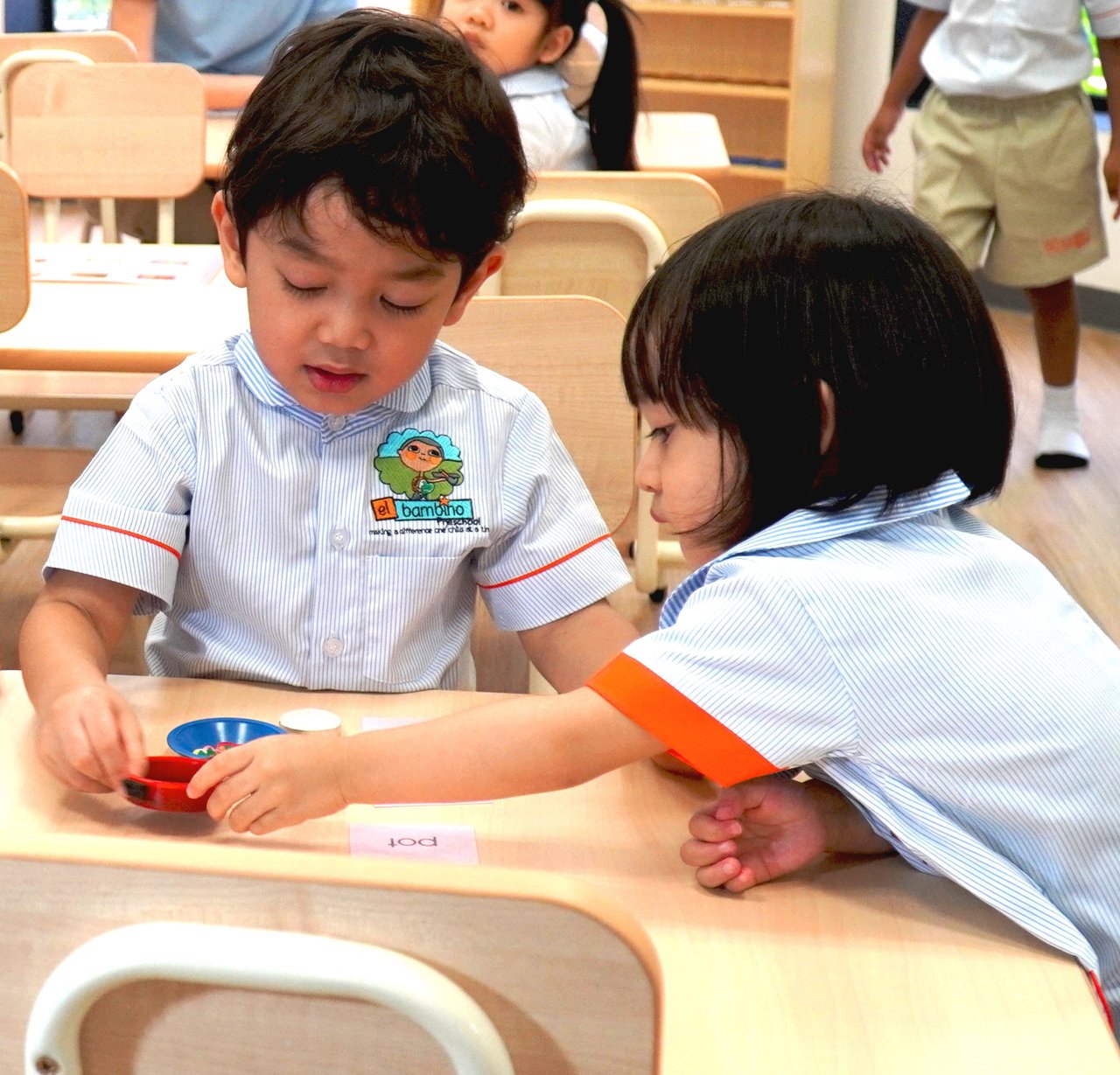 Observer & Explorer 2-4Years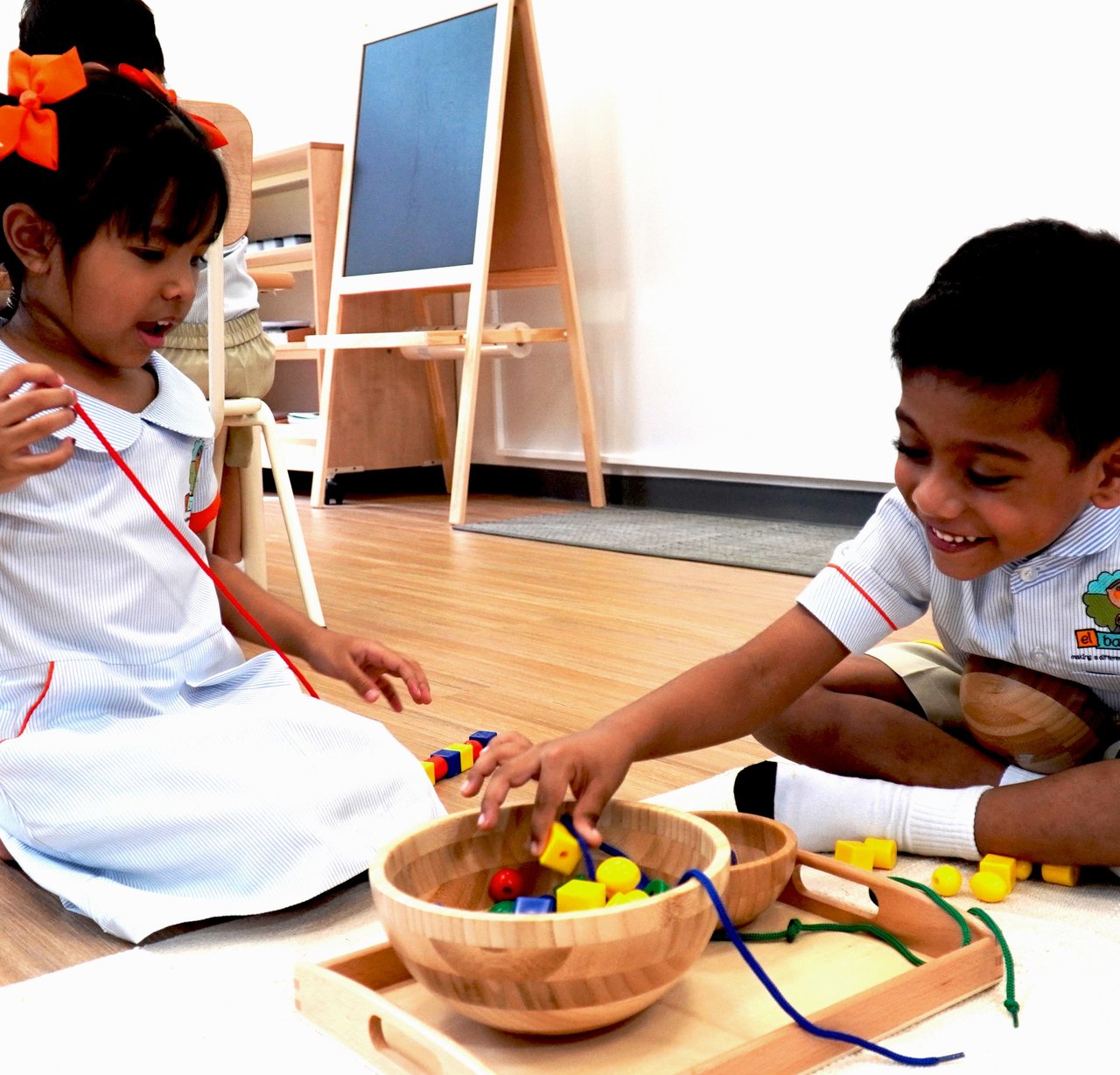 Adventurer & Achiever 4-6Years
We aim to
Focus

on the growth of your child in their own, unique way.
By exposing them to an environment of different teaching methods, we discover the best learning techniques to cater to your child's educational journey. We strive to always offer more to every child, and El Bambino aspires to guide the next generation to celebrate their unique interests and talents for a rewarding and healthy future.
read more

Practical
Life

Sensorial
Education

Languages

Mathematics

Cultural
Studies

Arts and Music
Cosmic
Education
Curriculum
Elements
Practical
Life
Practical life introduces a child to their environment, learning to care for themselves and whats around them.
Sensorial
Education
Children begin their sensorial experiences at birth. This teaching helps develop a child's intellect
Languages
Language is a vital learning skill; it is the way a person expresses and communicates with others.
Mathematics
Mathematics in Montessori is the study of different geometric and numerical patterns. To give them a head start in understanding numbers easily in the future.
Cultural
Studies
To provide children with an opportunity to explore the larger world. This includes the study of history, geography, and culture.
Arts and Music
The freedom to create and express. Every child has the ability to imagine, even before they can speak.
Cosmic
Education
Cosmic Education is a cornerstone of the Montessori Philosophy. This study will take place after the children have mastered the other syllabus. El Bambino

aims to

provide a fun and understanding environment for your children, a comfortable place for them to learn and develop a greater intelligence and awareness of themselves and surroundings.

read more
The Environment is fantastic and the teachers are energetic.
Ideal for early childhood education & development, with suitable environment facilities.
The programme fit perfectly for child growth within positive and encouraging environment. Everything are thought thoroughly for perfect balance education and play
A breath of fresh air into Putrajaya-Cyberjaya preschool world. A great alternative to the existing preschool. A fun place where children can grow.
Children need healthy, wholesome foods
Halal and Healthy

Food for Growing Children
We at El Bambino prioritise your child's well being. By eating family-style and serving themselves, children learn about making healthy choices. We are also a Nut Free preschool, taking allergies seriously. For any known symptoms of allergies or diet restrictions, we strongly encourage parents to notify us in advance.